Hydrodynamic test
Test in experimental tank
Hydrodynamic tests area milestone stage in vessel engineering, which includes open-water and tank testing.
The main testing object is an engineering vessel's model.
JSC Alekseev's Design Bureau uses experimental tank with towing bridge for testing and optimization of hydrodynamic characteristics of all high-speed vessels, including: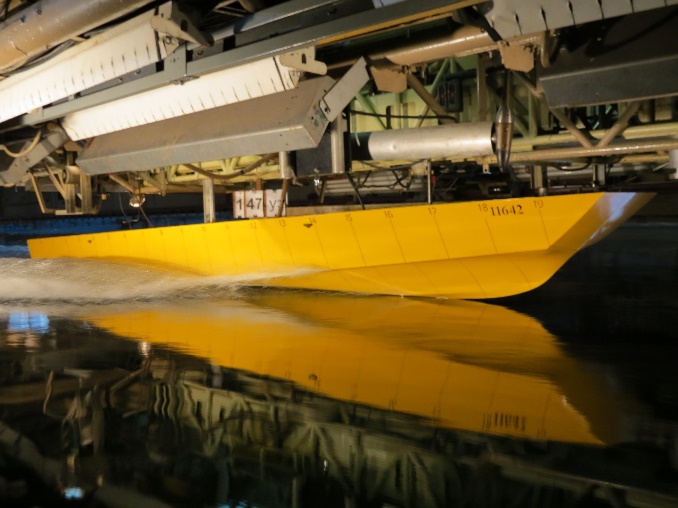 Ekranoplanes

Hydrofoils

Gliding boats

Hovercrafts

Air-cavity vessels

General description
Hydrodynamic channel water trough is a rectangle cross-section steelwork, which has pneumatic wave-maker in its forward end and wave breakers in its stroke side and water trough end.
Moving bridge is a rigid space structure, which leans on trackage by four wheels packs. This trackage was lined up to a horizontal high precision and which are located along water trough hydrodynamic channel corridor partition. Moving bridge has aerodynamical configuration, which were created, providing incoming air list confusion in model location area. Sufficient capacity of moving bridge induction motor provides intensive overspeed establishment with boosting up to 10 m/s
2
and speed up to 12 m/s. Braking reliability is provided by four-protection stage system, every stage of which has a previous duplicate. Automate measuring system allows to measure, collect revenues, conduct model parameters tests registration and their holding by 16 channels contemporary.




Basic parameters:
1. Tank dimensions:
lenght - 74,0 m;
width - 4,0 m;
depth - 1,2 m;
2. Towing speed
0,5 - 12,0 m/s2;
3. Acceleration
10,0 m/s2;
4. Braking acceleration
15,0 m/s2;
5. Accuracy of speed control on measuring segment
0,5 %;
6. Length of measuring segment
40,0 m;
7. Length of measuring segment
up to 50 kg;
8. Wave dimensions:
height- 40-150 mm;
length - 1,0-4.5 m;
The main issues, which are being solved in experimental tank, are follow:
High-speed vessel's molded form development;




Take-off flight and landing hydrodynamics characteristic evaluation of ekranoplanes and air-cavity vessels in conditions of cruising speed range, smooth water and seaway;




High-speed vessels seakeeping performance in the setting of regular waves with oscillatory process dynamics and peak-to-peak angular and bouncing motions;




Ekranoplanes operated management drill of take-off and landing in emergencies, including recommendations in vessel handling instruction;




Non-typical duty service research in conditions of ekranoplanes' starter engine and sustained motor, maneuvering controls failings during take-off and landing;




Estimation of maximum take-off weight and seakeeping performance;




Aerodynamic tests at screen affect (overwater)for certain ekranoplanes elements complex (horizontal and vertical fins, wings and etc.) in straight operation;




Experimental analysis for choice evaluation of ekranoplanes, dynamically supported crafts and all displacement boat types powerplant output;




Various models characteristics research of submersible crafts (video with ekranoplane's testing)
Technological advantages
The main technological advantages of JSC Alekseev's Design Bureau's experimental tank are follow:
It is a high-speed tank, which solves practically all technical problems during all engineering stages of high-speed vessel: from advanced product design up to working construction documentation release and full scale tests assurance;




It is a high-efficiency tank, as its towing and control equipment allows to solve project issues within a short time.



Practical use
JSC Alekseev's Design Bureau's experimental tank is used for hydrodynamic characteristics developing and defining of high-speed vessels, which move over, above and below the surface.
Hydrodynamic characteristics of such hydrofoils as "Roketa", "Meteor", "Catran" and "Valday", which have been exported in 50 countries; of air-cavity vessels, which are operating in Russia and abroad as well; of such technical unequalled ekranoplanes as "Orlenok", "Lun" and "Kaspian monster" have been developed in our experimental tank.
Experimental tank operation in term of experimental analysis providing
1. Lines design and constructional drawing of all types and purposes towed models, engineering and building the necessary towing equipment and control equipment elements.

2. Towing model building for testing.


Open water test
The main aim of mentioned research is determination and further optimization of main technical characteristics. The model seakeeping performance of hydrofoil boats and gliding boats, ekranoplanes, hydrofoils, air-crafts and air-cavity vessels are being established in smooth water and seaway as well.
The tests are leaded in open-water conditions in offshore of "Krasnoe Sormolovo" shipyard, in Nizhniy Novgorod. Usually towing boat and towed models are used for such testing.
After that, JSC Alekseev's Design Bureau makes technical report with analysis of hydrodynamic parameters and photo/video of movement in calm and rough water.
Open water test includes:
1. Optimization of hydrodynamic hull shapes
2. Optimization of hydrodynamic design for foil systems
3. Characterization of Seakeeping performances, wettability, splashing, floating stability, buoyance, propulsion quality, resistance to flooding, ship motions, course-keeping qualities
4. Defining of model acceleration during its movement
5. Defining of hydrodynamic parameters of test models including angle of list, pitch, speed, course, angular speed
6. Characterization of towing characteristics for test models
7. Characterization and optimization of aero-and-hydrodynamic WIGs configuration
8. Characterization and optimization of aero-and-hydrodynamic configuration for hydrofoils, gliding boats and air-cavity vessels
9. Characterization and optimization of aero-and-hydrodynamic configuration for hovercrafts